Ian Valz's Panman wins film awards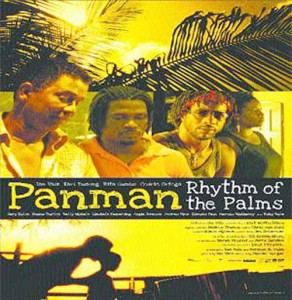 In a career that spans decades of ups and downs but largely success for his acclaimed writing and selfless contribution to the arts, Guyanese Ian Valz is a creative force that has rocked the Caribbean region. Today, he adds filmmaker to his impressive resume following the recent success of his film Panman, Rhythms of the Palms.
Ian wrote the screenplay, served as producer and played the lead role in the film, which recently had a Hollywood-styled premiere in the US and took top honours in the narrative feature film category of the 2008 Hollywood Black Film Festival (HBFF).
HBFF, dubbed "The Black Sundance," is an annual six-day celebration of black cinema drawing together established and rising filmmakers, popular film and television stars, writers, industry executives, emerging artists and diverse audiences from Southern California and around the world. It has become a hotbed for the Black Hollywood creative community.
In the film, Ian Valz tells of the rise and fall of steel drum pan player Harry Daniel. Harry is an icon of the Caribbean whose personal life suffers when he places his music above his family, for he is desperate to pass the pan culture to a younger generation. During this crusade to keep the music alive on his beloved island of St Martin, he meets the exceptionally talented Jacko who becomes his star apprentice and hope for the future. Harry treats him like the son he never had. But when Harry's fame begins to diminish, Jacko turns against him and embraces the world of rock music instead. Harry dies unexpectedly and Jacko returns to his island culture to become pan music's brilliant new icon.
Caribbean playwright working out of his adopted home in St Maarten, Panman has been a crowning moment after years of accolades, and it felt all the more gratifying given that the film took 15 years to make.
In an interview earlier this week, Ian told The Scene that the film was actually a stage play he wrote in 1993 that was very successful in St Maarten.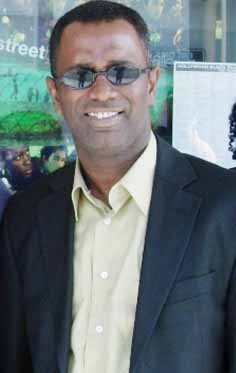 "A reporter from Holland saw the play and said he thought he would also make an interesting film. I had been working on turning my stage play into a screenplay," he said.
But when the story did not exactly read like he had expected, there were numerous rewrites, a determined but unsuccessful search for funding to shoot the film and a devastating hurricane season that hit the island stalling production. It had seemed like Panman would remain a play, that is, until Ian met Norman De Palm, a leading Antillean film producer from Curacao who read the screenplay and wanted to shoot the film.
"He found me a dynamic Dutch director from Holland, Sander Burger who brought with him a fantastic crew, and I managed to raise some money and shooting began in 2005. The film took two years to edit, again due to lack of funds but eventually we received the funding and the film premiered on St Maarten on November 11, 2007," Ian said.
Since that day the film's rise has been tremendous. Ian said the HBFF award was one of several honours Panman received. He said it was screened at the Brooklyn International Festival where it won the award for best original score and it played at the San Francisco Black Film Festival just last week.
Panman premieres in Curacao on Wednesday next (June 25), at the African Diaspora Film Festival, Ian said. And it will no doubt receive a warm reception here in August where it is expected to be featured as part of the Carifesta Film Festival. Ian did not indicate whether he would be in Guyana for Carifesta.
Cinematic talent and vision

Since its inception, HBFF has screened a total of 596 independent films from all across the United States, United Kingdom, Canada and the Caribbean and has hosted 203 world premieres.
"We are so pleased to be able to present awards to these filmmakers who have displayed an amazing array of cinematic talent and vision," said Tanya Kersey, Founder & Executive Director, HBFF.
Kersey said the 2008 HBFF award-winners reflect the full breadth of talent, diversity, and evolution of independent black film. She said the filmmakers this year displayed an extraordinary range and depth to their storytelling, adding "We are thrilled how the Hollywood Black Film Festival has continued to grow in attendance, local and national awareness and acclaim from filmmakers, writers and directors."
Other filmmakers taking top honours were Leon Lozano's feature film Something Is Killing Tate which took the top audience prize; short film winner, The Doll, written and directed by Dante James; Roxana Walker-Canton and Tina Morton's documentary Belly Of The Basin for best documentary; Crenshaw Nights, written by Greg Navarro and directed by Peter Gelles which won in the student film category; and Obara & The Mechants written by Michelle Bodden and directed by Manauvaskar Kublall for the animation category.
Ian is one of Guyana's more successful playwrights and he is also an actor. Fondly called Sir Ian by those close to him, he was knighted in 2006 by the Dutch Queen for his services to Dutch culture as one of the most successful playwrights, actors, and radio personalities in St Maarten. Currently, he holds the position of Director of the Independent Theatre Foundation in St. Maarten.
Ian has directed over 60 plays and, acted in over 30. Before leaving Guyana in 1984, he had held the position of Sports and Cultural Director; he later became Drama Director at the Cultural Centre in St Maarten, where he created The Teenage Acting Company for the youths on the island.
Ian is known for hit local plays such as, Two's A Crowd, and Room to Let. His play Masquerade was nominated for the Guyana Prize for literature in 1992 and took the runner-up position in the drama category. Other plays include The House of Pressure, A Passage to the Sun, Virgin In Black, The Peacock Dance, Separate Status and Breaking all the Rules.
Source: StabroekNews