About Us
St. Stanislaus College Alumni Association Toronto
2019 - 2020 Toronto Executive group photo
Members of the SSCAAT Executive (From Left to Right): Renuka Persaud Rene Bayley, Paul Camacho, Des Jardine, Akisha Somrah. Jimmy Fung, Savi Seenauth, Tyrone De Abreu, Andrew Insanally, Malcolm Barrington, Art Veerasammy, Amanda King, Marcelline Ramcharan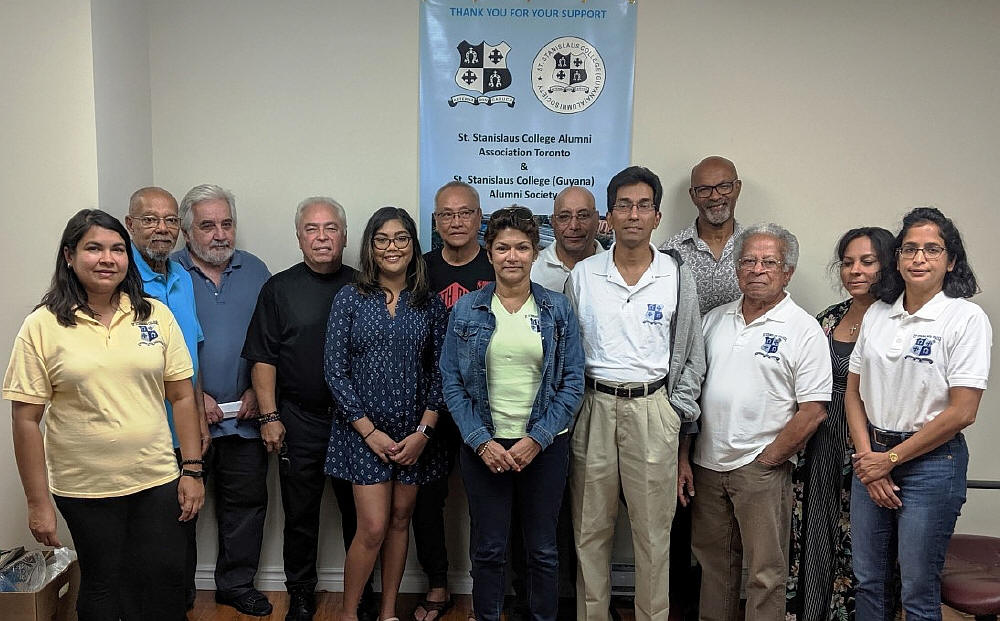 4544 Sheppard Avenue East,
Toronto, Ontario M1S 1V2

The St. Stanislaus College Alumni Association Toronto was founded in 1993 and is devoted to making St. Stanislaus College the best educational institution in Guyana.
The college was founded by Fr. Langton S.J. in 1866.
Formerly run by the Jesuit Order of Catholic priests, the school was taken over by the Government in 1976 with Government-appointed teachers replacing the clergy in 1980.

The Association provides financial and other aid to the college to improve both the physical environment of the College and the opportunity for its students to acquire a strong educational foundation that will benefit them throughout their lives.
We need the support of former Saints students and their friends, to ensure that the current students develop their skills in an environment comparable to the one most of us were fortunate to have.

With today's busy schedules, attending to family and work constraints consumes much of our time.
We have been fortunate to have truly dedicated members who help in our fund-raising activities by volunteering their services or attending our events, and for this we thank you.
If you can spare the time to volunteer even for one event per year, we can certainly use your help.
We encourage you to attend our monthly meetings, and to consider joining the executive to use the many talents that we know many of you possess.
Executive Members
At the Association's Annual General Meeting to report on the financial year of 1 Sept., 2019, to 31 Aug., 2020, held in Toronto on Sun. 27 Sept., 2020, the following were elected to the Executive Committee for the 2020 - 2021 year:
| | |
| --- | --- |
| Member name | Executive Position |
| L. A. (Bunty) Phillips | President |
| Akisha Somrah | Secretary |
| Alfred Carr | Treasurer |
| Malcolm Barrington | Director |
| Des Jardine | Director |
| John Rene Bayley | Director |
| Paul Camacho | Director |
| Neville Devonish | Director |
| James Fung | Director |
| Amanda King | Director |
| Michael Persaud | Director |
| Renuka Persaud | Director |
| Andrew Insanally | Immediate Past President |

St. Stanislaus College (Guyana) Alumni Society
At the Society's Annual General Meeting to report on the financial year of 1 Sept., 2019, to 31 Aug., 2020, held in Toronto on Sun. 15 Nov., 2020, the following were elected to the Board of Directors for the 2020 - 2021 year:

Chairman of the Board : Rupert De Castro
Vice-Chairman : Paul Abdool (independent member)
Directors: Lance Alexander (independent member), James Fung (independent member), Des Jardine, Amanda King, Renuka Persaud
Officers
| | |
| --- | --- |
| Member name | Executive Position |
| Rupert De Castro | President |
| John Rene Bayley | Secretary |
| Godfrey Whyte | Assistant Secretary |
| Alfred Carr | Treasurer |
| Akisha Somrah | Assistant Treasurer |
| Amanda King | Community Relations Executive |
| Des Jardine, Renuka Persaud | Officers at large |