Colin Bobb-Semple wins lifetime achievement award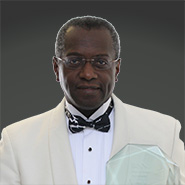 A lecturer on the City Law School's Bar Vocational Course (BVC) has been awarded the Black Solicitors' Network (BSN) Lifetime Achievement Award 2007.

Colin Bobb-Semple, who teaches on the BVC and the LLM in Criminal Litigation, was given the award for his services to the legal profession and legal education. He was one of the first black solicitors in the UK to open up his own practice, Bobb-Semple and Co, in 1977, and has also taught at the City Law School since 1989.
Colin also regularly contributes to legal journals including the Solicitors' Journal, Student Law Review and Prison Services Journal.
He told Citynews: "It is a great honour to be recognised by my colleagues. I am amazed that so many members of the profession are aware of my work; receiving this award was a prestigious and moving occasion."
Baroness Howells presented the award in front of an audience including His Excellency the High Commissioner for Grenada and Diane Abbott MP. 

Read about Colin Bobb-Semple's on City University London

Source: City University London